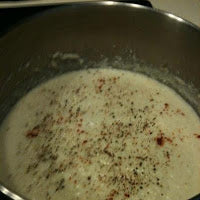 Cauliflower Soup with Tuscan Sunset
Check out this amazing (mostly vegetarian) cauliflower soup.
1 onions, chopped ( I had a red onion that I used)
1 clove garlic minced
2 stalks celery, chopped
1 tsp butter
1tsp of Pixie Chicks Tuscan Sunset
1/4 tsp (1 mL) nutmeg
10 oz/ 284 mL) sodium-reduced chicken stock
2 cups of water
1 head cauliflower, chopped
1 cup (250 mL) milk
Salt and pepper to taste and a sprinkle of Paprika
You can also sprinkle on some chopped fresh chives when you serve it.
In large saucepan with the butter, saute the  onions, garlic, celery,, nutmeg, chicken stock and 2 cups (750 mL) water; bring to boil. Reduce heat to medium; cover and simmer for 15 minutes. Add cauliflower; cover and cook for 15 minutes or until cauliflower is tender. Remove from heat and put in food processor or blender in batches. I have an emulsifier - that I use on all my soups!  Love it :) Whisk in milk, salt and pepper until smooth. Return to saucepan; heat through. Sprinkle with chopped chives if you want or a little more paprika.
http://sweetartsupplies.blogspot.ca/2012/11/cauliflower-soup.html