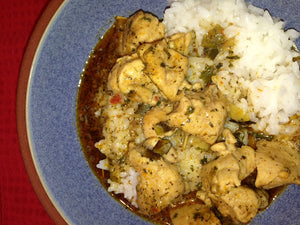 Thai Chicken Curry with Saigon Dreams
Ingredients:
2 shallots or 1 small onion
1 tbsp veg oil
3-4 tsp Thai Red Curry Paste
1 1/2 cups chicken breasts, cut into bite sized pieces
1 can coconut milk
2 tbsp Pixie Chicks Saigon Dreams
Brown shallots/onion in oil, add red curry paste and stir in chicken pieces until covered in paste. Add coconut milk, stir until evenly mixed, then slowly bring to a boil. Turn down heat, add Saigon Dreams and simmer for another 15 min or so, until chicken is cooked.
Serve on noodles or rice, and top with fresh cilantro and/or crushed peanuts (optional).